Faculty of Engineering - University of Deusto
REGISTRATION DEADLINE UNTIL:
Arquitectura y Construcción/Ingeniería Civil/Ingeniería
Universidad de Deusto
/ Bilbao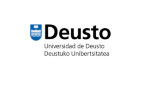 The basic seminar on stainless steels took place at the University of Deusto in Bilbao.  46 students from 3rd and 4th of Engineering attended. They study Industrial Engineering, Electronic Engineering and Industrial Organisation Engineering.
Sorry, the registration period ends on